KLM Community Day & Health Fair 2018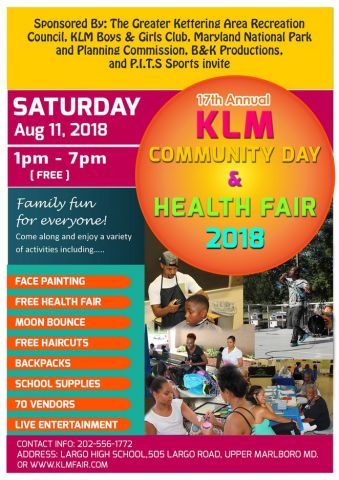 FOR MORE INFO CLICK ON FLYER FOR DETAILS
FOR FREE TICKETS CLICK: FREE
My name is Bruce Odams. I am the founder and CEO of B&K Thriving Artists Association based in Largo, Maryland. It is my pleasure to inform you about our upcoming event, which is a collaborative effort with
Kettering Recreation Council, KLM Boys Girls Club, The Maryland Park Planning Commission, B&K Productions, P.I.T.S Sports invite you to attend to the 17th Annual Kettering/largo/Mitchellville Family Community Day Health Fair.
Proposed Event: The Family Day Event is seeking your presence and support at our 15th Annual community day event, we are requesting your assistance in the following capacity listed below along with any other assistance you may be able to offer. In return for your support we would like to include your name on our flyers and commemorative souvenir booklets, and we would welcome the idea of your company having a booth with information on the various services you offer at the event.
The Family Day Event will consist of free Health Assessment Testing with over 40 Health Care Organizations, Free back to school haircuts, free backpack & school supplies, free hamburgers & hotdogs for kids from 11A - 1P, Children Events (clown, face painting, giant slide, moon bounce, pony rides), Zumba & Yoga, Sports skills clinics, 3 on 3 Basketball tournaments, Car Show, fashion show and talent showcase with live performers from the metropolitan area. In addition we will have over 30 arts and craft and food vendors from the local area. We will have the support of the local radio stations and news media.
WHAT:Kettering/Largo/Mitchellville Family Community Day and Health Fair.
WHEN:Saturday, Aug 11 16, 2018 
TIME:1:00 - 7:00 p.m.
WHERE: Largo High School
ADDRESS: 505 Largo Road, Upper Marlboro, MD 20774
Potential Estimated Attendance: 800 + Kids and Adults
CONTACT: Bruce Odams
(202) 556-1772